Dental Implant Placement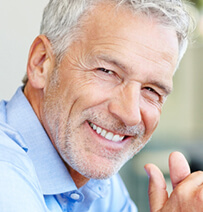 Losing one or more teeth can be a devastating event, both for your oral health and your quality of life. Simple, fun activities like talking with friends or eating lunch can suddenly become difficult or awkward, and many patients even find it hard to smile out of fear of embarrassment. Thankfully, dental implants are available today as a revolutionary reconstructive solution that promises valuable benefits, such as improved health, exceptional durability, and seamless aesthetic quality. Most patients turn to their regular doctor, a periodontist, or an oral surgeon to have their new implant(s) placed – but did you know that an endodontist can be just as capable of performing the procedure in a comfortable and precise fashion? Here at Premier Endodontics, Dr. Joseph Creasy and the rest of our Fort Worth, TX team would be happy to help you transform your smile for the better.
Why are implants right for me?
As Dr. Creasy is well-aware of, your individual tooth is actually composed of two significant and crucial parts – the white, visible crown, and the root that's hidden under your gum line. Most traditional tooth replacement options, like bridges and dentures, only bother with the crown, which can create significant problems over time. Without a tooth root in place, the jawbone can begin to deteriorate, leading to higher risks of additional tooth loss and a "hunched" facial appearance over time. Thankfully, dental implants provide the entire structure of the tooth for viable candidates.
Why should I choose an endodontist to place my implants?
There are many cases where an endodontist is actually the one who determines whether a natural tooth can be saved or not. During a thorough evaluation, Dr. Creasy can carefully examine the patient and discover the extent of the damage the tooth is experiencing. He can then give you a confident opinion about his recommended course of action and whether you meet the requirements for having one or more dental implants successfully placed. The procedure can then be provided by our office.
Once the implants have successfully healed within your mouth, you'll return to your regular dentist to receive custom restorations, completing the treatment and giving you back your beautiful, strong smile. Don't hesitate to contact our Fort Worth, TX location today if you're interested in an implant consultation!